An Innovative, Hair Replacement Solution
---
OneHead offers the perfect non-surgical hair loss solution you have been looking for.

We produce high-end premade and custom made hair pieces (systems) made of real, high-grade human hair.

The hair system is designed to replace completely or partially the balding or thinning area on the top of your head, giving you an instant full head of healthy looking hair and a new fresh and younger look.

The balding/thinning area needs to be shaved so that the hair piece can be applied to the scalp using a special certified skin adhesive.

The hair system will be worn for an average of 2 to 4 weeks at the time, then it needs to be removed, cleaned, and refitted using fresh adhesive.

Our hair pieces have a lifespan of approximately 4 to 6 months depending on a variety of factor including the type of base material, the maintenance and care given to it as well as the customer's lifestyle and usage.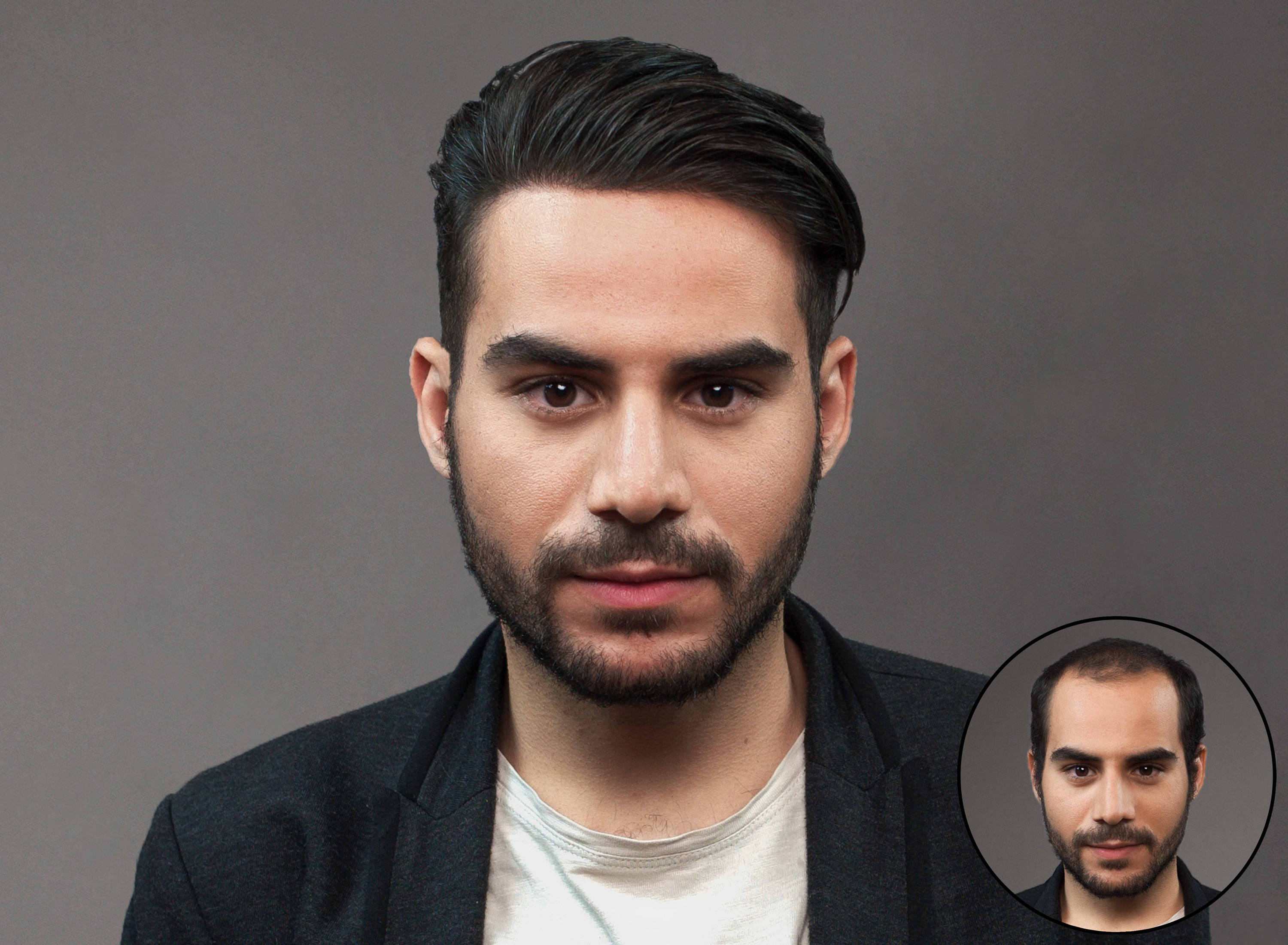 10 things you want to know

Our premade hair systems are available to ship worldwide and will be received within 2-3 weeks after the order is processed.

Our custom made hair systems have a production time frame of 12 weeks.
2. NON SURGICAL AND NON PERMANENT

Our product is not a hair transplant. 
It's a non invasive, non-surgical, semi-permanent solution.
Using the product has no side effects and it can be removed when desired, leaving no scars or marks.
To use our product, the thinning/balding area on top of your head will have to be shaved. If your hair loss situation is partial and/or only located in the front (receding hairline) or only in the back, we will need to shave a surface size of minimum 4 inches square to ensure solid and safe bonding of the hair system.
If your hair loss situation is located in the front and in the back, with a good area of thick hair in between, we will still need to shave the majority of the top of your head to cover the two balding zones with the hair piece and to obtain better and more realistic results.
Our hair units can be attached to your scalp using special certified skin safe liquid adhesive or special double-sided tape. We offer these products in the maintenance products section of our shop.
The attachment can be partial on full and can done in different ways, offering bonds that will vary in resistance according to your needs and lifestyle.
You will wear the hair system between 2 and 4 weeks at the time on your head, depending on your lifestyle, body chemistry and location's weather conditions as well.
Every 2 - 4 weeks, you will need to remove the hair system and clean it, clean your scalp, shave the hair that has regrown and refit the unit using fresh adhesive.
6. MADE-OF REAL HUMAN HAIR

All our hair systems are made with 100% natural human hair.
Our premade units are made with high-grade Remy Indian hair and our custom units are made with superior authentic Virgin European hair.
The lifespan of your hair system will depend on a variety of factors including the type of base material it is made of, the usability and the maintenance given to it.  
Hair systems do naturally lose quality over time as the hair strands become more dry and worn looking. The frequency of the refits, the products used to style the hair, the exposure to the sun and the frequency of shampoos done to the hair are all factors that will make the hair age with time and the base loose its shape and strength.
Our hair systems are all designed to last between an average of 4 to 6 months, except our special OneSkin Ultra system which has a lifespan of 2 to 3 months due to its extremely thin and fragile base material.
All our hair systems are designed to resist sweat and water exposure. What is affected by those elements is in fact the adhesive and not the hair unit itself.
The adhesives we recommend are sweat and waterproof but they also have specific limits to how much water/sweat exposure they can take before they start to break and need to be changed.
9. FITTING AND MAINTENANCE

OneHead is working hard everyday to offer fitting and maintenance services in as many cities worldwide as possible to accommodate all our new and existing customers.
We have built an incredible team certified hair system stylists and technicians and this team is growing everyday to help more interested clients.
We are proud to be able to offer fitting and maintenance services in major cities of the USA, Canada, UK, Europe, Middle-East, South Africa and Australia. See the Points of Service section under Contact Us for more details.
If you don't live nearby one of our certified hair stylist, don't worry, many of our clients around the world are using our products without having one in their city.
We have developed DIY guides and videos to allow you to use our product and maintain it by yourself, wherever you are located. We also offer special, hair dresser training sessions, via live video call.
We encourage our new clients to either approach hair salons or hair dressers they might know (someone if their friends/family circle or a referral) in their city, explain they are looking for someone willing to learn the hair system fitting technique and help them with the product. We will assist and teach the hair dresser for free, step by step, the fitting process of our product. We also have video tutorials for them to watch.
Get in touch with us to know more about these options.
10. HAIR SYSTEM OR HAIR TRANSPLANT

Hair transplants have been around for a long time. Technologies have evolved a lot and some surgeries provide great results now, but the each procedure always comes with some serious risks.
Amongst those risks are allergic reactions to anaesthesia, infection, scars, permanent redness or itchiness of the skin, nerve damage including permanent loss of sensation.
Results are never guaranteed. There is always possibilities of rejections of the transplanted graphs or in most cases, genetic will make the hair continue to fall, forcing you to get additional surgeries, leaving additional scars on your scalp, and less money in your wallet.
Another important thing to note is that a hair transplant will give you a density of about 60-70% or slightly more if it is highly successful; while hair systems will give you any desired density between from 80% to 150%, instantly and guaranteed.
Our systems are non invasive and harmless for your head and your scalp. They guarantee a thick, healthy looking full head of hair, risk-free.